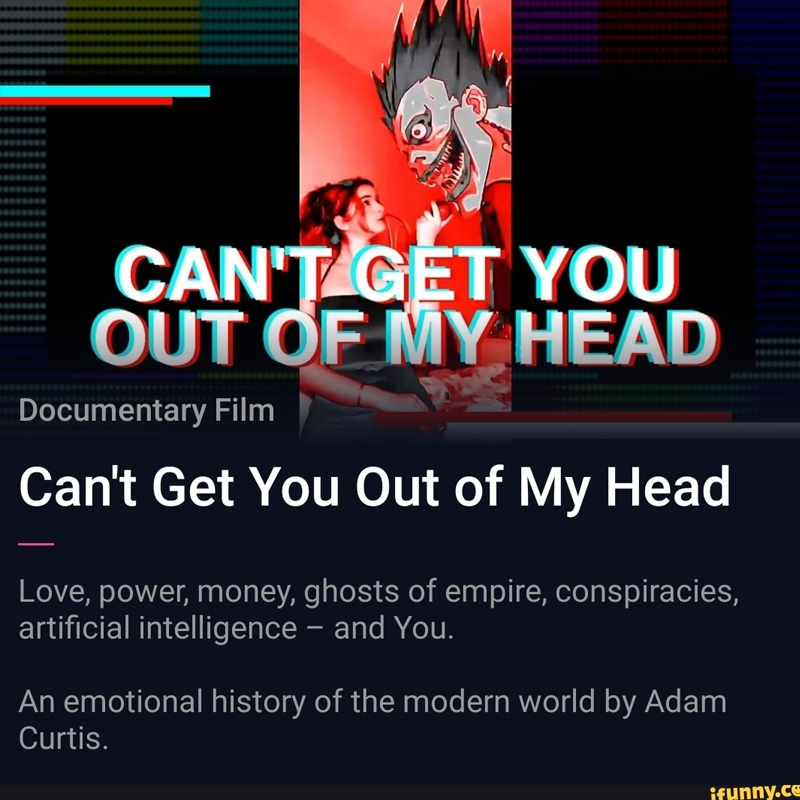 Can't Get You Out of My Head: An Emotional History of the Modern World is a six-part BBC documentary television series created by Adam Curtis. It was released on BBC iPlayer on 11 February 2021. Kevin Adam Curtis is an English documentary filmmaker. Curtis was a relatively conventional documentary producer for the BBC throughout the 1980s and into the early 1990s.
Like many of Curtis's previous documentaries, it explores and links together various topics such as individualism, collectivism, conspiracy theories, national myths, American imperialism, the history of China, artificial intelligence, and the failure of technology to liberate society in the way that technological utopians once hoped it might.
---
This is definitely a 6-piece series to watch! Adam Curtis not only offers some of the most compelling historical and social footage from the BBC archives, he also manages to open doors in your mind that you never knew were there. About the power and desire of individualism gone awry, until the point it is openly used against us. Dividing us and steering us away from control over our lives and our future.