Making an artisan limited EP sleeve
"killthelogo artist colab:
deconsume

"
A huge thanks goes out to everyone that pitched in with either resources, skills, time, clearance and/or actual money to make this project a reality: Hans Verbeke (FX7 Records & Printclinic.be), Ralf Leesen (Hypertension Records), Bruno Vandevyvere (Genet Records), Music Mania, Liar, Kabul Golf Club, Deformity, Pridebowl, Drums Are For Parades, Sardonis, Maurits Pauwels, Pieter Verheyden (PIAS).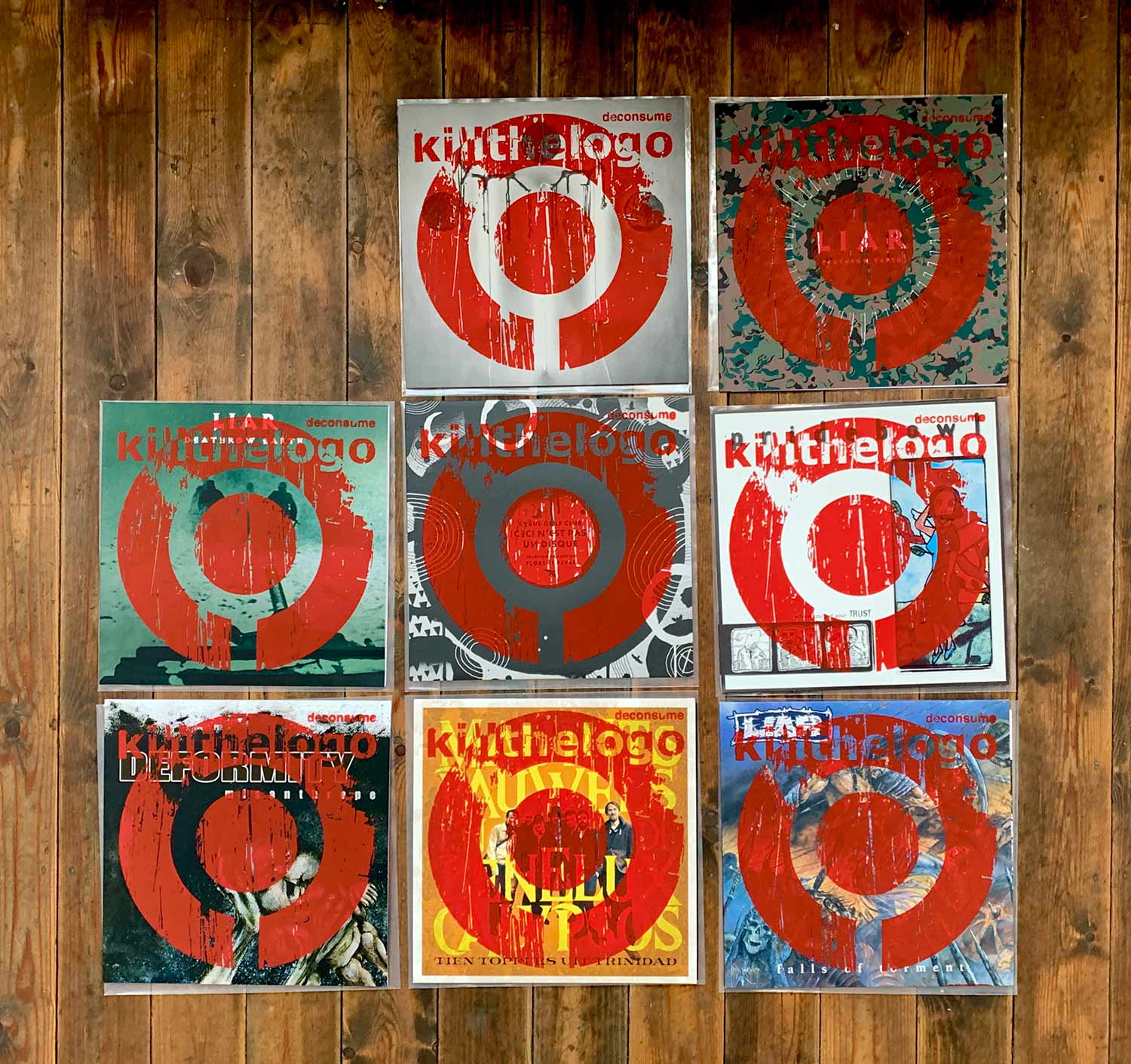 Putting ideas into practice
First and foremost, the killthelogo project is a musical one. But we also want to present our music in ways that trigger your imagination about how we look at brands, products and production-chains. That is part of what #deconsume means.
We love uniting our expressions with those of likeminded artists from all walks of culture. So this specific collaborative makes total sense. It focuses on the following things:
repurposing overstock 12-inch vinyl sleeves that were gathering dust in someone's warehouse.
featuring the skills of our partner and underground music cult-beast: Hans Verbeke at Printclinic.be (Hans can print anything on anything!)
examining how we can offer you quality artisan screen-printed items with the lowest possible ecological impact.
highlighting collaboration and unification between the arts.
making something that brings added value to the music and the underlying concepts of our message.
We came up with this 'overprint' style design for the front and back prints, that could cover the existing artwork but would still combine nicely with the variety of covers we were expecting to receive. 
A detail, but important to mention. Using overstock sleeves is not a new idea, nor is it our invention. Underground bands have been doing this on select occasions, mostly to prove a point, sometimes to save money (which is also 'a point').
Our point here is: #deconsume. Please, only use virgin resources, if it is the least impact solution. Deeply explore the alternatives and be creative without limitations.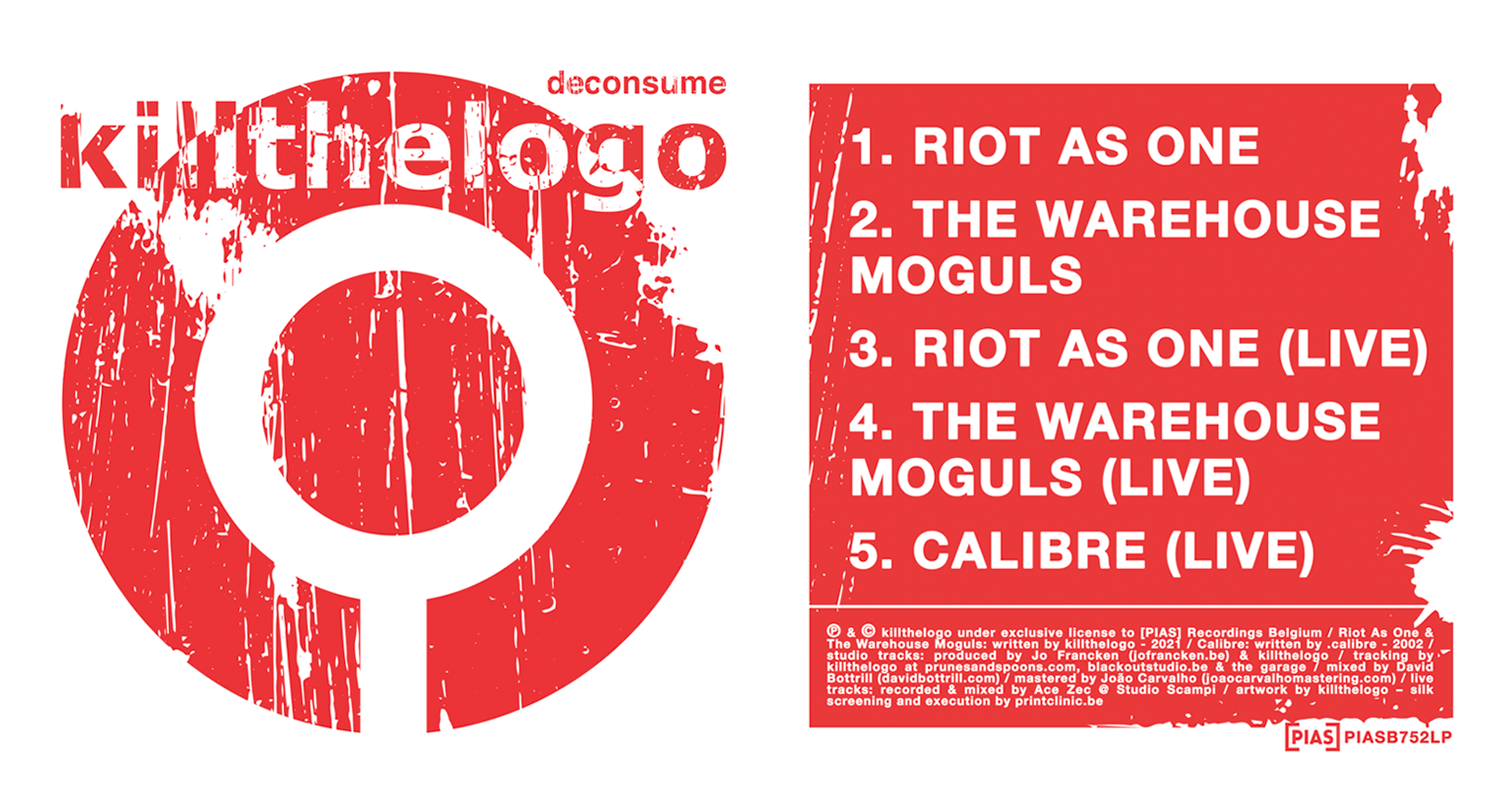 We talked to our friends, partners and extended networks to check who could do or deliver what.
The leading question was: where are we going to find that much overstock sleeves? Turns out that some labels stock surplus sleeves and are mostly quite happy to get rid of it. Thanks for your consent and help to FX7, Hypertension, Genet, Music Mania,
Niko (guitar) and Thomas (our manager) did most of the logistics to assemble all sleeves. We also aligned execution of the screen print work with Hans Verbeke (Printclinic.be) in this stage, checking de feasibility of the design.
And let's not forget that Pieter Verheyden at PIAS cleared the budget for this project. Kudos.
3. Screen printing process
Crazy work by Hans and his team at Printclinic.be
The music on this EP was assembled from studio and live recordings; and remastered for vinyl.
Riot As One:
the studio recorded single version, that was released on January 6th 2021.


The Warehouse Moguls:
the studio recorded single version, that was released on June 9th 2021.


Riot As One (live) /
The Warehouse Moguls (live) /
Calibre (live):
These three songs were taken from the live streaming show we played in April 2021.
(p) & © killthelogo under exclusive license to [PIAS] Recordings Belgium
Riot As One & The Warehouse Moguls: written by killthelogo - 2021

Calibre: written by .calibre - 2002
Studio tracks: Produced by Jo Francken (jofrancken.be) & killthelogo / Tracking by killthelogo at prunesandspoons.com, blackoutstudio.be & the garage / Mixed by David Bottrill (davidbottrill.com) / Mastered by João Carvalho (joaocarvalhomastering.com)
Live tracks: Recorded & Mixed by Ace Zec @ Studio Scampi
Artwork by killthelogo – silk screening and execution by Printclinic.be